17 years in Curatio International Foundation: President Ketevan Chkhatarashvili to Leave Organization
Dr. Chkhatarashvili joined Curatio International Foundation (CIF) in 2000. In 2002, the Board of Directors tasked her with leading the organization by appointing her as president. Since then, with its work on healthcare policy and systems issues, CIF has emerged as a leading organization in the post-Soviet region, by delivering unbiased, high-quality research outputs and consulting services. Dr. Chkhatarashvili with support from the CIF team contributed to the organization's geographical expansion and, as a result, CIF has continued to work on healthcare policy and systems issues in as many as 28 countries. Currently, the Curatio International Foundation brings diverse expertise and experience to the projects it implements on a range of different topics and issues.
In addition, during Chkhatarashvili's tenure, CIF has significantly expanded its partnership network – both domestically and internationally, and currently the organization works with more than several dozen institutions and donors around the world. CIF also hosts the Secretariat for Health Systems Global.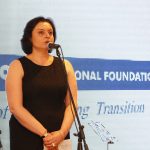 As Dr. Chkhatarashvili leaves her post as CIF President, she will embark on a new path in her professional career to work as a global independent consultant. As such, the CIF team would like to express its sincere gratitude for all of her contributions over the past 17 years, and would like to wish her great success in her new endeavor. Going forward, the Curatio International Foundation also hopes to continue its fruitful collaboration with her.
Based on a decision by the foundation's Board of Directors, starting November 1, 2017, CIF will be led by one of its founders and a director since 1996 – Dr. George Gotsadze, who will also continue to serve as the Executive Director of Health Systems Global.
Latest News