Apply for Our Winter Internship Program
We invite Master and PhD students from around the world to apply on the program. During the internship you will have a possibility to develop advanced research skills, meet leading experts in the field and become a co-author of a scientific paper.
We offer three research directions:
HIV prevention and risk behaviour among key populations
Integration of Mental Health Services in General Primary Care
Measurement of the Quality of Care
If you are interested in any of the research topics and would like to find out more about working with our research team please submit your resume, motivation letter indicating the selected research topic and recommendation letter from the university or the working place.
Deadline for application is October 19, 2017. Notification about selection will be sent within 10 days after the deadline.
For any further queries, please contact Internship Program Coordinator Maia Uchaneishvili at [email protected]
For more information please download the full announcement document.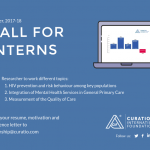 Latest News