Why Georgians second-guess their doctors – Deregulation has left Georgian medical care something many Georgians would rather avoid
Full Article is available on Eurasianet
" […] Last year, Giorgi Tsiklauri, 24, was diagnosed with leukemia at a hospital in Tbilisi and was about to undergo chemotherapy, but he decided to seek a second opinion in Turkey. As it turned out, he had an infection on the inner surface of his heart, Tsiklauri told local media, publicly accusing his Georgian doctor of incompetence.
Of course, doctors can make mistakes in even the most-developed countries. A 2017 study by researchers at Johns Hopkins University School of Medicine found that medical error ranks as the third-leading cause of death in the United States.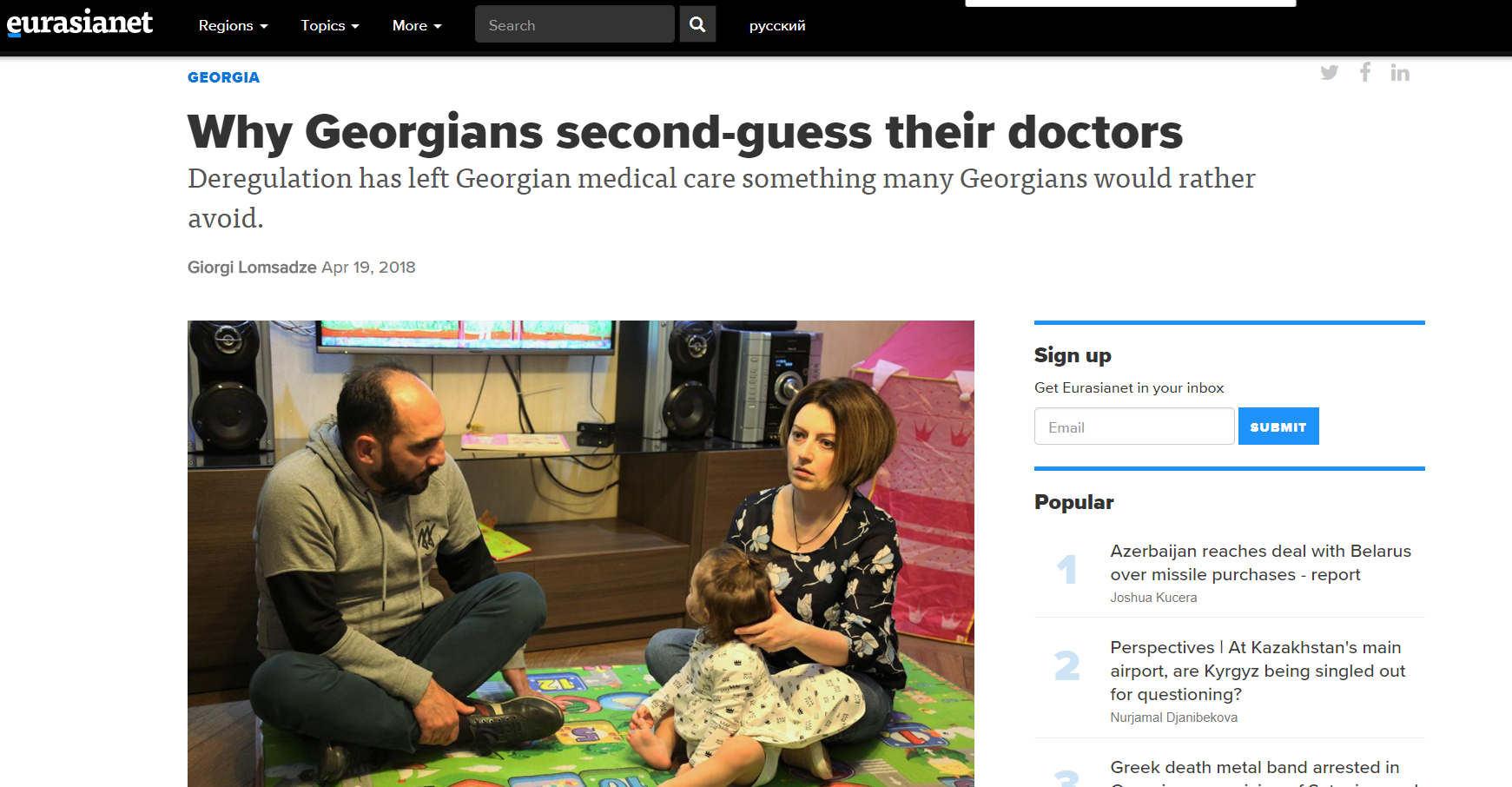 But the statistics suggest Georgia has a large number of poorly regulated doctors.
Last year, the Georgian government suspended 93 doctors' licenses, mostly for malpractice, according to Nino Khutsishvili of the State Agency for Regulating Medical Activity. By comparison, the state of California, which has 10 times the population and five times the doctors, revoked 44 medical licenses on similar grounds.
Lapses in education and deregulation may, at least partly, explain the frequency of medical errors, suggests Giorgi Gotsadze, the president of the Curatio International Foundation, a healthcare think-tank based in Tbilisi.
"Medicine is a constantly evolving field and lifelong learning is needed to stay abreast of [changes]. In Georgia, physicians are not required by the state to keep upgrading their professional skills," Gotsadze explained.
In a 2017 report for the World Health Organization, Curatio emphasized the risks of deregulation and the privatization of state medical facilities.
"In 2006, the government of Georgia introduced an aggressive privatization policy and applied market-regulated principles to the health sector, characterized by liberal regulations and minimum supervision. In the framework of this policy, many regulations were abolished, and medical facilities and quality of services were no longer controlled by the state," the report said. Today, "there are no regulations to appraise service providers' clinical practice."
Compensation
Even if patients ultimately escape a poorly trained doctor unharmed, many are averse to go through with the drudgery of pressing administrative and legal charges. Dentist Nino Kopadze was content to simply tell off the doctor who mistakenly diagnosed her with stomach cancer. "I did not have the stamina to follow through with filing a complaint and all that, though I should have," she told Eurasianet.
The man who did the original ultrasound test on Kira publicly admitted his mistake. "I am of course now convinced that I made a mistake and that there was nothing there. And I have no problem apologizing for it," the diagnostic sonographer at Interclinic said on television. (Interclinic declined to be interviewed in a reasonable timeframe for this story.) Kira's parents are now deciding whether to accept the apology or to press for compensation for the costs and stress they suffered."
Eurasianet is an independent news organization that covers news from and about the South Caucasus and Central Asia, providing on-the-ground reporting and critical perspectives on the most important developments in the region.
Latest News