Forbes Georgia: The Importance of Evidence in Decision Making
In February 2017, CIF director George Gotsadze talked with Forbes Georgia. The interview discusses the role of effective management in health systems and impact of innovations in the field. In the article George speaks about CIF experience serving as HSG Secretariat. Read more in the interview: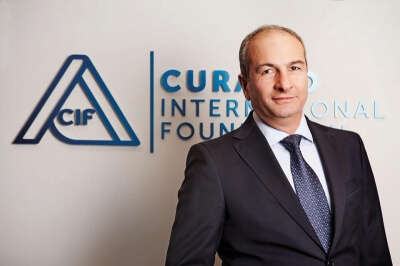 Evidence matters – this is the credo of Dr. George Gotsadze, Director of Curatio International Foundation (CIF), a Tbilisi-based non-governmental research institution, and the Executive Director of Health Systems Global (HSG). Dr. Gotsadze respects evidence-informed policy-making and has been doing a great job with his team in researching healthcare systems globally, and providing evidence-based policy advice to policymakers in various countries. CIF numbers speak for themselves: over the past two decades 130 projects have been implemented, more than 50 scientific articles written, and more than 200 studies undertaken, and these figures are constantly growing.
The world is undergoing major demographic as well as epidemiological transitions. We're seeing changing disease patterns from the northern to southern hemispheres, as well as an increasingly aging population, which will pose future challenges. Advances in science and gains in life expectancy throughout the world will mean a significantly higher demand on the global economy to deal with the health issues of our planet. All of this will trigger economic challenges and will demand new thinking, innovations, and approaches," explained Dr. Gotsadze – in an interview with Forbes back in 2013, without knowing that two years later he would become the Executive Director of Health Systems Global (HSG), which in March 2015 moved its secretariat from Copenhagen to Tbilisi, Georgia.
HSG is the first international membership organization promoting health systems research and related knowledge translation. It brings together researchers, policy-makers, funders, implementers, civil society and other stakeholders from all over the world. Around 1,900 members of the society work together to create, share and apply the knowledge necessary for strengthening health systems globally.
From demographic to epidemiological transitions; from the increasingly aging population to advances in science, and gains in life expectancy; from infectious disease outbreaks and violence to hidden epidemics of mental illness and malnutrition; from rapid urbanization to changing disease patterns – these are global, national and local trends that health systems around the world inevitably confront. This means that health systems must be resilient in being able to absorb the shocks and sustain the health gains already achieved, or face the major risk of having decades of investment wiped out. At the same time, health systems are incubators of innovation, which is both an invaluable asset for making people live longer and a huge challenge, since healthcare becomes very expensive. So, only thorough research can evaluate and create new ways in which health systems can better respond to people's emerging health needs and more effectively solve the healthcare dilemmas directly affecting their lives.
All these aspects came together at the Fourth Global Symposium in Vancouver, Canada, in one main theme –"Resilient and Responsive Health Systems for a Changing World." These aspects touched upon such directions as resilience: absorbing shocks and sustaining gains; responsiveness: anticipating change, respecting rights and engaging in politics, and health systems as incubators of innovation. The symposium was attended by more than 2,000 specialists from around the world. This symposium was the fourth of its kind for Health Systems Global after Montreux 2010, Beijing 2012, Cape Town 2014, and the first of its kind for the Curatio International Foundation (CIF) team and its leader, Executive Director of HSG, Dr. George Gotsadze.
It's now 2017, so Forbes Georgia asked Dr. Gotsadze if anything has changed in global health since 2013, when he last spoke with Forbes.
Latest News
Related content