Meet CIF in Vancouver at HSR2016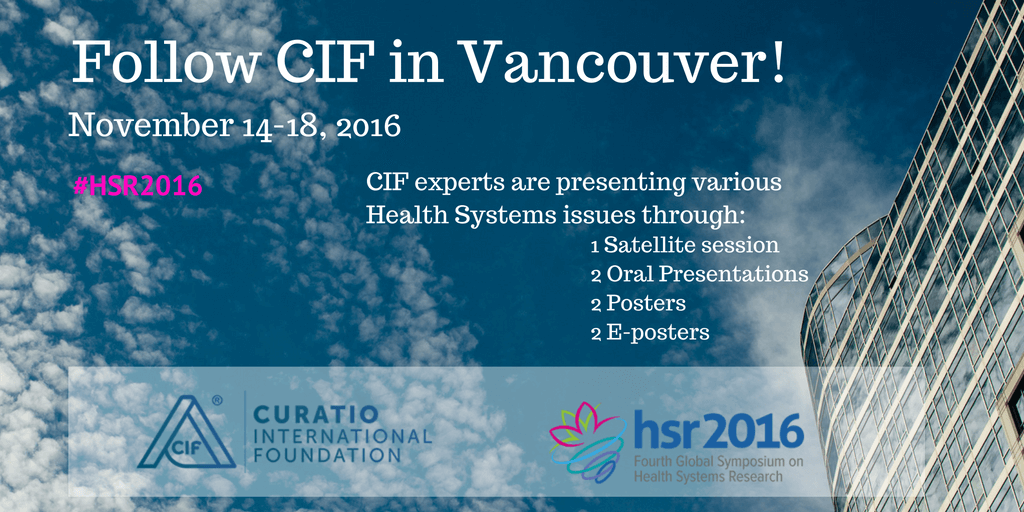 Curatio International Foundation will be featured at Health Systems Research 4th Symposium to be held in Vancouver, Canada November 14 -18, 2016. CIF experts will discuss several important health system-related issues and share particular knowledge with a global audience. We hope our input in the discussions on global health systems research will be valuable and beneficial to future developments.
Hope to see you in Vancouver!
Monday, November 14th
Satellite session
08:30 – 12:00 (room 11)
'Enhancing Health Systems and Sustaining Public Health Gains While Preparing for the Transition from Donor Funding'
A satellite session will be hosted by The Global Fund and the Curatio International Foundation.
The session will discuss the changing landscape in development assistance for health-related issues for some countries, which has resulted in reduced or terminated donor funding for critical programs like immunization, TB, HIV,  malaria. The session participants will deliberate over how to sustain the public health gains achieved over the past decades through enhancing health systems during the transition period.
The session will capture the perspectives of donor representatives, researchers and country stakeholders. Participants include Joseph Kutzin and Susan Sparkes from the World Health Organization, Ajay Tandon from the World Bank, Janis Timberlake from PEPFAR, Deborah Kaliel from USAID, Sara Bennett from Johns Hopkins School of Public Health, Jean-Olivier Schmidt from GIZ, Michael Borowitz from the Global Fund, Donald Pardede from the Ministry of Health of Indonesia, Maureen Lewis from Aceso Global, Tamar Gabunia from CCM Georgia.
CIF Research Unit Director Ivdity Chikovani will present the Transition Preparedness Assessment Tool, which was developed by CIF to measure a country's readiness for a smooth transition.
Thursday, November 17, 2016
Oral Sessions
11:00–12:30 (room 9)
'Transition from Global Fund Support and Programmatic Sustainability: Evidence from 12 Countries in Eastern Europe and Latin America' – Tamar Gotsadze, George Gotsadze, Ivdity Chikovani, Ketevan Chkhatarashvili.
CIF President Ketevan Chkhatarashvili will present the findings of the studies in twelve countries, and assess their readiness to transition from receiving Global Fund support to a situation where they will need to sustain the gains they achieved with their national HIV and TB programs.
Friday, November 18, 2016
13:30 – 15:00 (room 16)
How Experts and Healthcare Providers Evaluate Health Systems Reforms in Georgia: An Easy and Cheap Way to Track Progress – Lela Sulaberidze
Young researcher Lela Sulaberidze will present the findings of the "Health System Barometer" – an online study that is implemented by CIF biannually over the last four years to track the progress of the Universal Health Coverage program in Georgia.
Wednesday, November 16, 2016
Posters
12:30–14:00
Progress in Reducing Health System Bottlenecks Towards Achieving the MDG 4 Evaluation of UNICEF's Contribution in Five CEE/CIS countries – Akaki Zoidze, George Gotsadze, Tamar Gotsadze, Ivdity Chikovani. ID: 2927, PN: EH-ip45,
The Road to Sustainability: A Framework to Assess Transition Preparedness – Ana Amaya, George Gotsadze, Ivdity Chikovani. ID: 2985, PN: EH‑ir61,
 
November 14-18, 2016
E-Posters
Transition Away From Donor Support – What is the Impact on the National Immunization Program, Experiences From Two Southeastern European Countries – Akaki, Zoidze, Ivdity Chikovani, Ketevan Goguadze
The Impact of Community-based Service Pilot Intervention on Mental Health System in Georgia – Maia Uchanieshvili, Eka Chkonia, Ivdity Chikovani.
You can also meet us at HSR2016 Marketplace, at booth #16.
Follow us online using hashtag #HSR2016.
Latest News
Related content