HIV risk and prevention behaviours among Prison Inmates in Georgia, 2015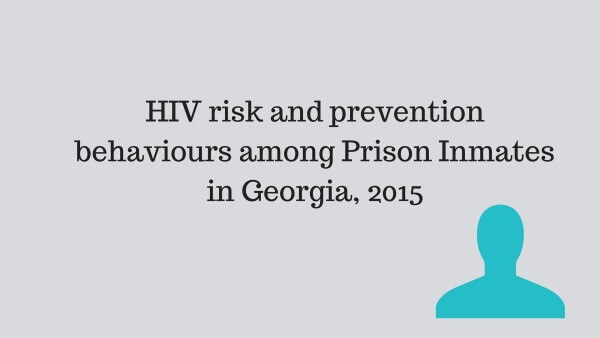 Curatio International Foundation continues implementation of Bio-Behavioral Surveillance Surveys (BBS) among Key Affected Populations (KAP's) with the aim to measure HIV prevalence among KAP's, monitor risk behaviors among these groups and generate evidence for advocacy and policy-making.
The current study describes the most recent wave of BBS surveys among prisoner population in Georgia (Bio-BBS surveys among prisoner population have been implemented since 2008).  Study also was looking at STI (Syphilis) prevalence. CIF implemented this study together with partner organisations – Center for Information and Counseling on Reproductive Health – Tanadgoma and the Infectious Diseases, AIDS and Clinical Immunology Research Center.
The study used a Simple Random Sampling (SRS) Method. A sample of 300 prisoners were recruited in the survey from 3 penitentiary establishment located in Tbilisi, Rustavi and Kutaisi.
The study was financially supported by the Global Fund to fight AIDS, Tuberculosis and Malaria (GFATM).
Major findings:
Socio-demographic characteristics
The median age of prisoners was 34, with the age ranging from 18 to 78 years, majority (74.1%) were with the secondary education. Less than half (46.8%) of the inmates were married.
Median duration of imprisonment is 1.5 years years, ranging from 0.08 to 19 years.
Sexual behavior
Sexual practices among prisoners was not high (35.2%). However, mostly heterosexual contacts were being reported (95.3%), only 4 respondents reported having both heterosexual and homosexual contacts and only 1 inmate said it was homosexual contact.
As for the condom use during the last anal intercourse, 3 out of 5 respondents said it was used, and other reported not using condom due to the trust towards the partner.
Drug Use Behavior and Additional Risks
Slightly more than half of the respondents (52.2%) reported having used drugs in their lives. Out of those, who have ever used drugs, 87.9% reported use of injecting drugs and 68.8% – use of non-injecting drugs.
Only 10.3% of the respondents reported using non-injecting drugs during the last 12 months, and only 8 inmates reported having used injecting drugs. It is noteworthy that none of the inmates reported needle/syringe sharing during the last 12 months.
Additional risks related to HIV exposure were found to be also small. Almost one third of the prisoners (31.6%) reported having done tattoo while in prison. Only five prisoners reported using shared syringes for treatment purposes and 3% used razors that were used by the others. Alcohol use is extremely low in prisons – 3% reported using it during the last 12 months.
HIV knowledge and HIV testing practice
The majority of the respondents (91.4%) report that they have heard about HIV/AIDS.
Knowledge about HIV, measured by the Global AIDS Response Progress Report Indicator, was low – 23.3%. In general, level of knowledge on HIV has not changed from 2011 to 2015.
HIV testing offer in prisons as well as uptake by the prisoners has increased, which demonstrated successfulness of the HTC cabinets established by the prevention programs within the penitentiary system.
Sexually Transmitted Infections (STI)
Awareness on STIs in general is high. Majority (91.0%) of the respondents have heard about STIs, knowledge or health-seeking behavior of the prisoners has not changed since 2012.
Interventions/Media
Prisoners have various sources of getting information on HIV and STIs, the most trustful of them being TV, booklets, NGO representatives as well as healthcare workers.
The study revealed statistically significant increase in the percentage of the respondents (25.2% in 2015 vs 18.3% in 2012, p<0.05) who were covered by preventive program.
HIV and Syphilis prevalence
The HIV prevalence found by the survey was 2%. In the previous survey the prevalence was 0.3%. However, this increase is statistically not significant.
Prevalence of syphilis was low. Comparison of syphilis prevalence with the data of 2012 survey demonstrated statistically significant decrease (p<0.001).
Full study report is available here. 
Latest News