National consultations to propose a new model of TB funding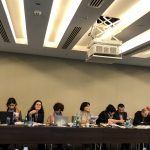 On September 23  International Foundation Curatio held national consultation  in the frame of the project "Technical Assistance Using Modern Technology for TB Prevention, Diagnosis and Increased Quality Treatment". The project is financed by National Center for Disease Control and Public Health.
The project is implemented in several directions:
Introduce FAST strategy nationwide based on GeneXpert technology and support further expansion of their use
Contact research and TB surveillance program for healthcare workers
Basic Principles for Managing Electronic register for TB Workers at High Risk Institutions
Developing and facilitating optimal financing mechanisms for the services provided under the TB program.
The national consultation  aimed to discuss the current reality of TB funding and the possible solutions / changes. The following issues were discussed at the meeting:
Epidemiological and funding trends of the TB program in 2016-2018
State and "real" prices of TB services according to the Value TB survey
Possible options for changes in the financing of the TB program
The meeting was attended by representatives of Ministry of Labor, Health and Social Affairs, National Center for Disease Control and Public Health,International Foundation Curatio, National Center for Tuberculosis and Lung Diseases, and Social Service Agency.
Latest News